Women's Directorship and Gender Diversity in The Boardroom
Executive Education, HKU Business School
& CFA Institute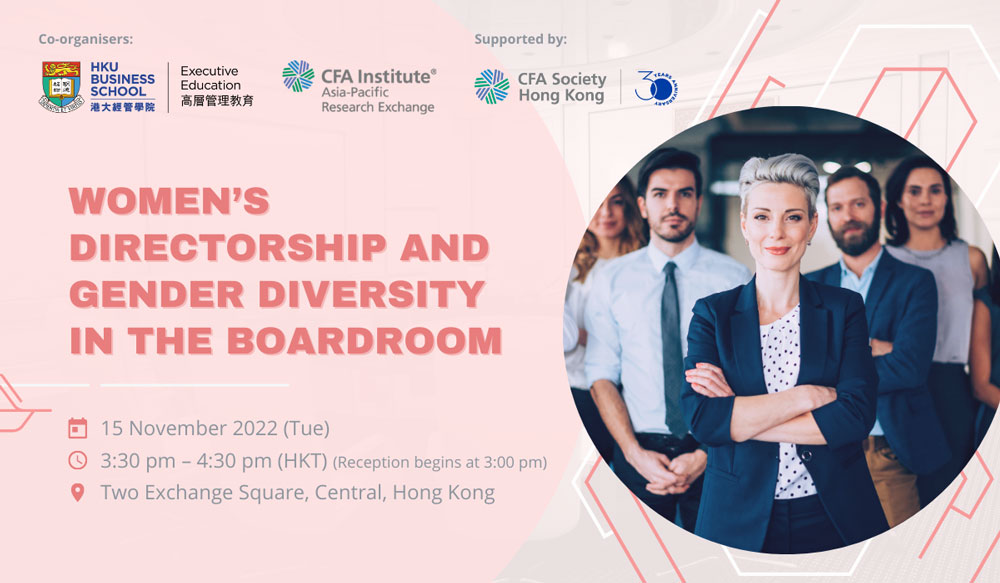 Gender-balanced boards are proven to bring greater business success. At the same time, diversity, equity, and inclusion (DEI) are crucial elements leading to better team performance and to better serve our diverse society. However, despite years of advocacy and thought leadership, we still see certain imbalance in the financial industry, especially in boardrooms.
In the meantime, the pandemic and economic uncertainties have created new challenges for leaders, with respect to business recovery, talent acquisition and retention, stewardship, and other compliance matters.
In this upcoming event, HKU Business School Executive Education and CFA Institute are joining hands to organise an in-person event for us to learn from the industry leaders about their strategies in managing changes effectively and to promote gender diversity in the boardrooms. Audience could also engage with each other and become advocates for this important matter.
Sharing by HKU Executive Education
Mr. Adrian Chan
Director,
Executive Education,
HKU Business School
Mr. Scott Lee
Senior Director,
Asia-Pacific Research Exchange,
CFA Institute
Panel Discussion: Women's Directorship and Gender Diversity in The Boardroom
Panel Chair: Dr. Bonnie Hayden Cheng
MBA Programme Director & Associate Professor,
HKU Business School
Dr. Bo Zhou
Member Board of Directors
Ascent Partners
Ms. Natalie Chan
Partner, Audit & Assurance,
Financial Services Industry,
Deloitte Touché Tohmatsu