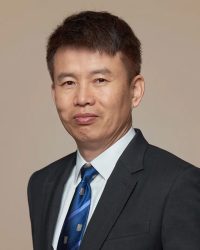 Professor Hongbin Cai
Dean
Chair of Economics
Director, Institute of China Economy
HKU Business School
Leveraging on the unique strengths of HKU, the HKU Business School has grown to be a vibrant and one of the most international Faculties that values innovation, diversity and thought leadership, and is committed to offering world-leading business education.
With our deep root in Hong Kong, strong engagement with China and truly international influence, our executive education team targets to impact and drive changes to the Asian business community, hence the world economy, through continuous knowledge transfer to executives and professionals. We offer a platform for academic learning and exchange of ideas. We collaborate with prominent corporations to develop industry-driven programmes for professionals, enriching their knowledge with real business practices, as well as keeping up with the technological advancement in the dynamic business world.
In order to meet the demand for continuous learning, our leading scholars transfer their frontier research into teaching, while prominent business leaders share their valuable experience and best practices. With the Faculty's expertise in the broad spectrum of business areas, in both custom and open executive education programmes, we incorporate the latest development, challenges, and opportunities in today's volatile global economy. For example, in response to an increasing concern over gender imbalance in boardroom around the globe, we have also been offering the Women's Directorship Programme exclusively for senior women executives for seven years, encouraging them to aspire at work and in life.
The Faculty's full-time MBA programme has been ranked Asia's no. 1 in the World MBA Rankings for nine consecutive years. Our elite EMBA-Global Asia programme is jointly offered with Columbia Business School and London Business School for globally-focused executives. We also partner with Guanghua School of Management of Peking University to offer a DBA programme and an EMBA programme, offering supreme learning experience. Our vast network from DBA, EMBA, MBA and executive education programmes provides immense opportunities and great synergies for our students and alumni.
With its traditional role as the financial, business and cultural gateway bridging the East and the West, Hong Kong enjoys a distinct advantage. To stay open-minded and to swiftly adapt to the ever-changing business environment, we welcome you to join our executive education programmes, through which you will embark on a journey of life-long learning.