The HKU Executive Certificate in Leadership and People Management Equips Business Pioneers with Essential Skills for Organisational Success

  14 January 2023
The 1st cohort of the HKU Executive Certificate in Leadership and People Management was successfully completed today. Senior leaders from a broad range of industries including construction, real estate, shipping and logistics, biomedical, retail and distribution, and the public sector attended the programme to acquire updated knowledge for driving organisational success.
The 8-day programme developed participants' leadership and people management capabilities step-by-step based on a FAAS (Frameworks, Activities, Applications, Sharing) model. Four modules covered key leadership topics, namely, Leading High-Performing Teams, Effective Business Communication, Interpersonal Relationships & Conflicts, and Leading Self and Unleashing Potential. To launch each module, Dr. Bonnie Hayden Cheng, Programme Director of the HKU Executive Certificate in Leadership and People Management, Associate Professor of Management and MBA Programme Director, HKU Business School, elaborated on key frameworks and strategies for handling pressing leadership challenges faced by leaders today. Participants then deepened their knowledge by participating in integrated learning activities based on real-world leadership challenges. Within each module, seasoned industry leaders were invited to share their perspectives, to facilitate a comprehensive understanding and outlook.
Of the Leadership and People Management Executive Certificate Programme, Dr. Bonnie Hayden Cheng states: "Leaders are increasingly confronted with complex challenges due to rapid changes in business and in society. This programme provides participants with practical frameworks and tools for addressing diverse issues relevant to leadership and people management. Utilising an engaging combination of knowledge exchange, applied workshops, interactive exercises, and sharing from distinguished industry leaders, participants develop their leadership through facilitated practice applying new skills to solving the most pressing topics faced by leaders today."
The programme was highly recognised by the participants in terms of the programme design and its applicability to current challenges in a leadership context. "This programme was very fruitful because of interactive contents with diversified participants and talented lecturers." said Mr. Akihiro Okubo, one of the programme participants. "On the first day, the professor said, 'We don't manage tasks, we manage people.' which still keep in my mind. It's an interactive course gave me exploration to empowering leadership and how to manage people. What I really liked about the special speakers of each module was they gave practical real-life examples through case study and workshop. I gained something much more important to my development as a leader and a professional." said Ms. Tinny Chung, one of the programme participants.
To continue to support business leaders in their leadership journey, the 2nd cohort of the HKU Executive Certificate in Leadership and People Management will commence on 12 May 2023. For more details, please visit https://execed.hkubs.hku.hk/hku-executive-certificate-in-leadership-and-people-management/.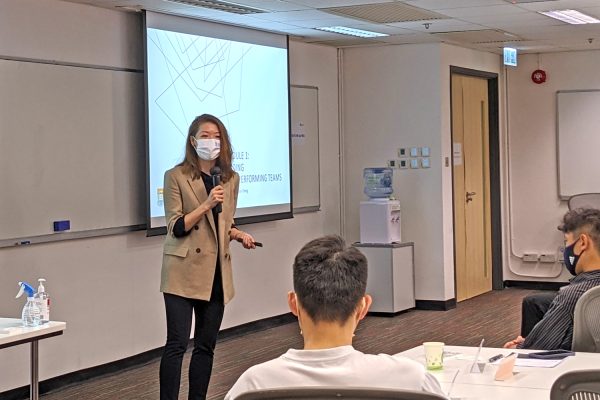 Dr. Bonnie Hayden Cheng, Programme Director of the HKU Executive Certificate in Leadership and People Management, Associate Professor of Management and MBA Programme Director, guided participants to apply relevant frameworks for improving team effectiveness within the complexities faced by businesses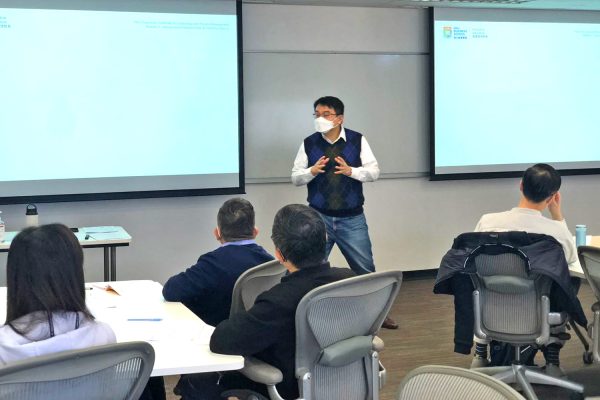 Dr. Leon Lam, Adjunct Associate Professor, discussed managing workplace conflicts and difficult workplace scenarios under various business circumstances